Sign up for the Hybrid Public Hearing on Thursday January 28, 2021
Phone Number: +1 (914) 614-3221
Attendee-muted Pin: 330-660-833
You may submit your comments in the Question pane of the GoToWebinar. Comments taken online through GoToWebinar will be given the same weight as comments provided at the hearing or sent via mail or email.

Built in 1965, the Big Carlos Pass Bridge is 55 years old.
Due to its age, it is in need of replacement or rehabilitation. An environmental and engineering process called a Project Development & Environment Study (or PD&E Study) is underway to determine the social, economic, natural, and physical effects associated with this project.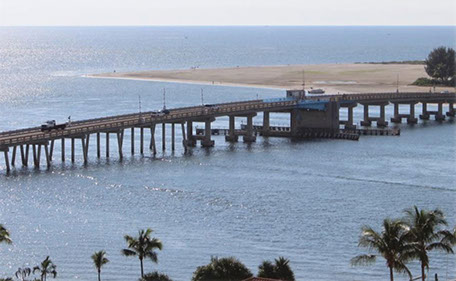 Once the PD&E Study is completed, Lee County will select a preferred alternative. The County will present the preferred alternative and no-build/rehabilitation alternative at a public hearing to solicit further comments and input. After the hearing, the final documentation will be submitted to the Federal Highway Administration for approval. If the alternative is approved (unless the no-build/rehabilitation alternative is selected) the project will advance to the design, right-of-way acquisition and then construction phases iffunding allows. The PD&E Study is expected to be completed in spring 2021. Once the study is complete, if an alternative other than the no-build/rehabilitation alternative is selected, the design and permitting phase will begin and is expected to be completed in 18 to 24 months. Construction is anticipated to take two to three years, pending final selection of a bridge type.